Working at Studierendenwerk Heidelberg – of course!
You are not just looking for a job, but a meaningful activity that challenges you every day? Are you looking for an employer who offers you job security, flat corporate structures and a family-friendly and friendly working atmosphere? Then Studierendenwerk Heidelberg is the right place for you. Our strong team of about 500 employees ensures that more than 49,000 students from Heidelberg to Heilbronn-Franken are perfectly cared for and supported in the areas of housing, student financing, catering, childcare and social counselling on a daily basis.
You are what makes us unique.
We know that we can only fulfil our mission by working with outstanding colleagues who bring passion, team spirit and enthusiasm to their work. A workplace where you feel comfortable is a prerequisite for this. That is why respectful interaction and an appreciative corporate culture are our top priorities. As a responsible and family-friendly employer, we also support our employees in balancing their professional and private lives, for example through flexible working time models in many of our positions. The collective agreement of the German federal states (TV-L) that applies to us guarantees a secure salary with annual bonus payment and company pension scheme. In addition, you can look forward to discounted employee prices in our first-class canteens and cafés.
We work in the middle of the lively University campus. Learning and further education are part of our everyday working life. With intensive on-the-job training as well as individual further training and development opportunities, we ensure that you are optimally challenged and promoted from day one.
Then find out more about us as an employer, our fields of activity and current job offers below. We offer interesting prospects for you as an educator, electrician, cashier, cook, caretaker, engineer, merchant, psychologist and in many other professional fields.
Whether you are looking for an attractive company for your training or dual study programme, as a career starter, experienced specialist or as a manager - we are looking forward to hearing from you!
Image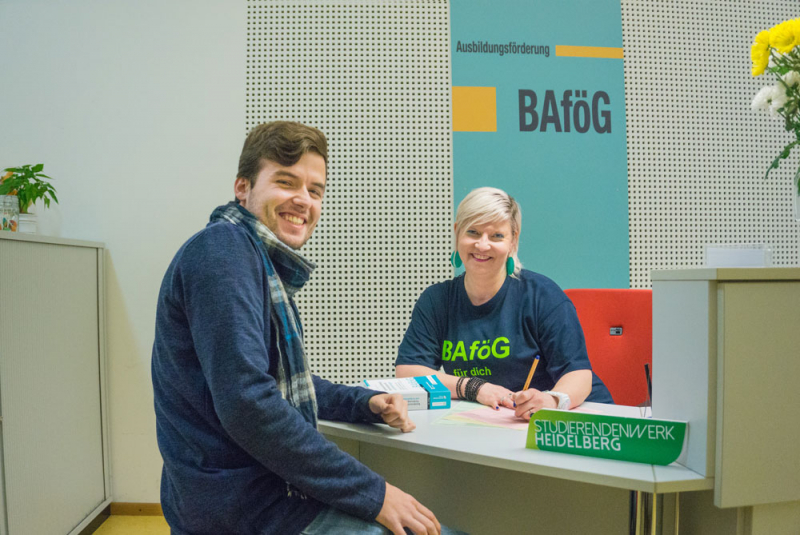 Student financing
Financial factors often play a role in the decision for or against studying. We contribute to equal opportunities in higher education by offering a comprehensive range of services related to student finance. Whether BAföG, student loans, education loans or other funding options - our team of almost 50 experts in Heidelberg provides competent information, comprehensively examines applications in accordance with the legal requirements and can look back on a total of approximately 11,000 processed applications for student finance every year.
Accordingly, one of the core competences of our staff is advising prospective students and current students. In each individual counselling case, they are committed to finding the best financing path in accordance with the personal life situation of the person seeking advice. Typically, administrative assistants, lawyers and office management assistants work in student finance. However, we are also happy to welcome new staff from other sectors and committed career changers. If your professional roots lie elsewhere, but you like to communicate, are well organised and have a strong willingness to learn as well as the necessary detailed orientation to deal with laws, then our student finance department could be the right field of work for you.
Our current open positions in the department student financing
Image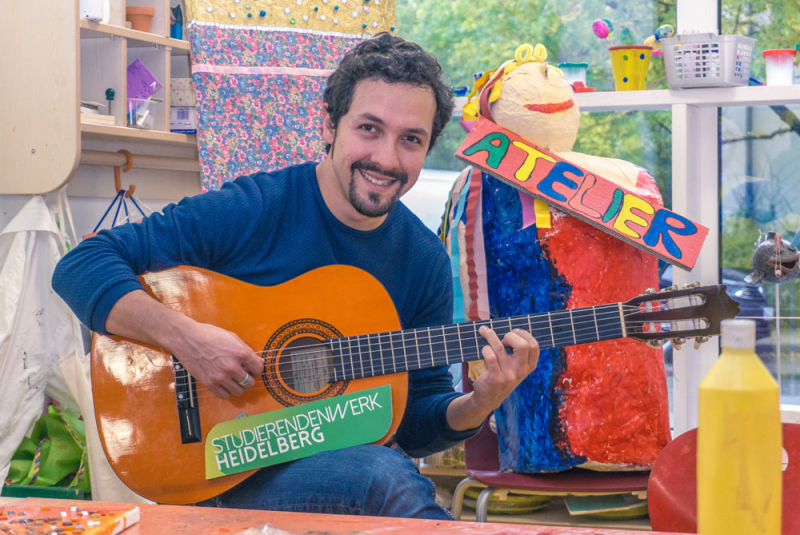 Child care
About five percent of the students supported by the Studierendenwerk Heidelberg are parents and are thus challenged to balance their offspring and their own studies. Childcare is therefore an important pillar of our holistic service portfolio for students.
The childcare unit consists of several childcare facilities at different locations in Heidelberg and Heilbronn. Here, around 80 members of staff look after just under 300 children aged from eight weeks to school entry as part of an all-day care service. Our team includes nursery nurses, social pedagogues, trainee nursery nurses or nursery nurses in their year of training and many other pedagogical specialists with different focal points of pedagogical work. What distinguishes the work in all our facilities is a needs-based pedagogical support approach with which we respond to our young clientele and ensure that the children are cared for according to their age and individual support needs. Additional projects and special offers such as early musical education provide variety and fun - for the children as well as for our staff. Pedagogical expertise, a creative streak, enthusiasm for working with the youngest children and, last but not least, a certain amount of composure are just some of the qualities that qualify you for this responsible job.
Our current open positions in the department child care
Image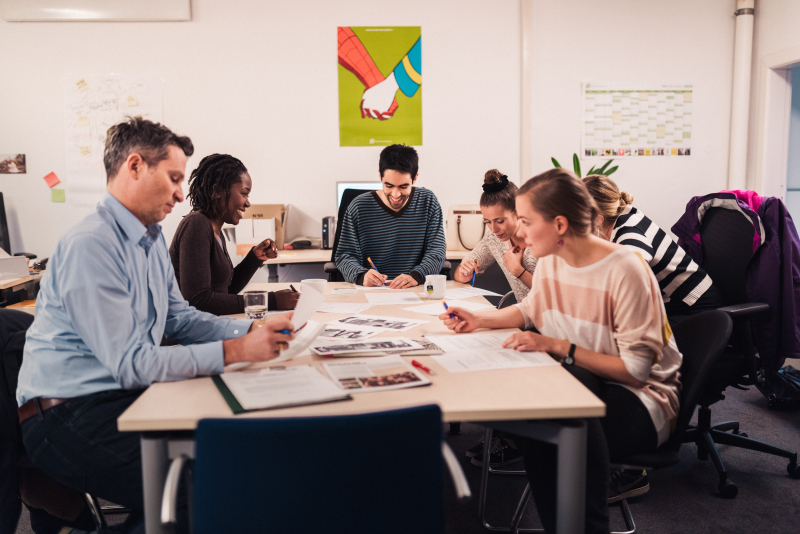 Administration
More than 560 employees who look after and support around 49,000 students - a well-positioned administration is the be-all and end-all for a functioning infrastructure around campus.
Our diverse team takes care of all business matters within the various commercial departments. Finance and Controlling, IT and Human Resources, Marketing and Communications, Compliance, Legal, Procurement and more - they all contribute with their work to ensuring that the operations in our facilities function on a daily basis and that the colleagues on site can do their job.
The job profiles in our administration are correspondingly varied: business administrators and business people with a wide range of specialisations, but also social scientists and humanities graduates as well as committed career changers with a communicative personality, a knack for organisation and an interest in office management tasks - they all work at Studierendenwerk Heidelberg.
Our current open positions in the department administration
Image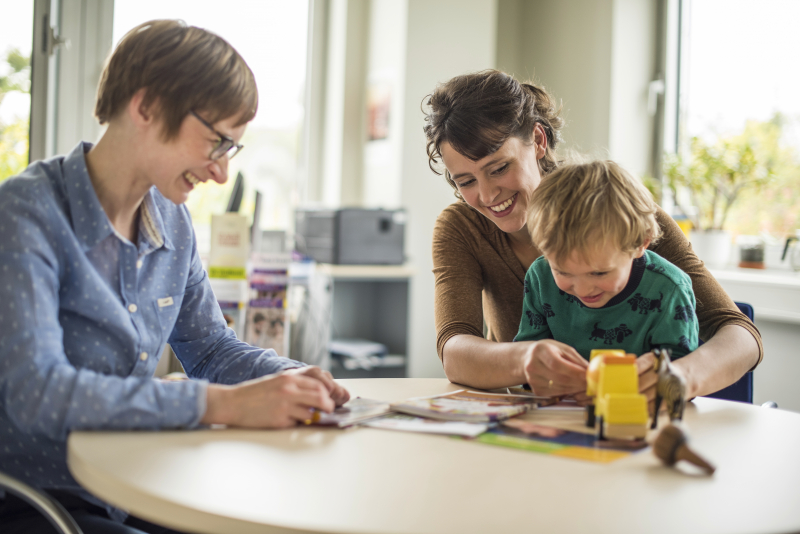 Advice & Service
Studying always entails questions and challenges of various kinds. That is why we support students with a wide range of counselling services. This ranges from information on organisational and financial topics as well as psychological and social counselling services to expert support in legal matters.
Our counselling centres in Heidelberg are staffed in particular by social education workers and psychologists. They are the central point of contact for personal, social or financial concerns and are available to students in personal counselling sessions, which are always confidential, in anonymous online counselling and as part of the many other services. Counselling skills and the necessary professional qualifications are just as much in demand here as an open ear and the ability to respond to students' personal situations in order to provide helpful guidance and decision-making assistance.
Our staff at the ServiceCenter and the InfoCafé International in Heidelberg are available to provide general information about the services offered by the Studierendenwerk Heidelberg. They inform students about important topics such as housing, student finance, childcare, job and room listings, selling semester tickets, assisting with application processing and much more. If you are a friendly person who enjoys being in direct contact with students on a daily basis, lives the idea of service and always maintains an overview, this is the right place for you.
Our current open positions in the department advice & service
Image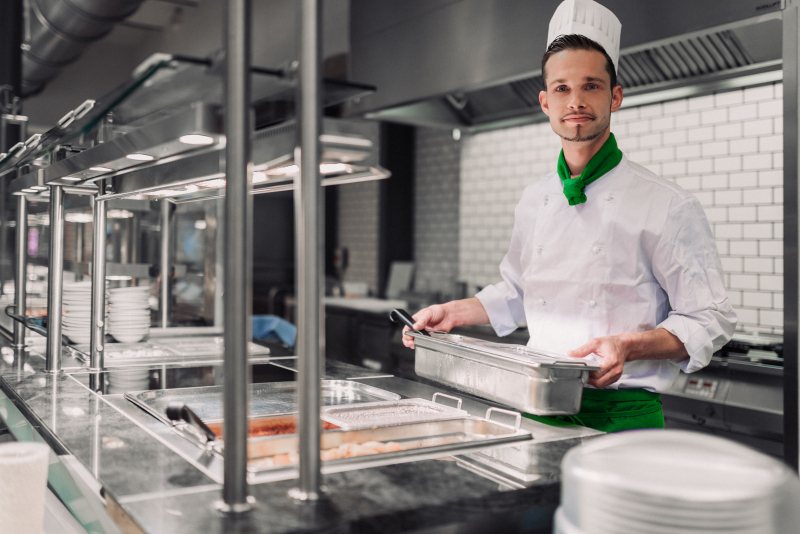 University gastronomy
When it comes to optimal conditions for studying, food and beverages undoubtedly play a central role. In our total of 18 catering facilities at the various university locations we serve, our employees are at work every day to ensure the physical well-being of students at a high culinary level and in compliance with the highest quality and hygiene standards. In line with our social mission, we attach great importance to fair trade and organic products and raw materials in the food and beverages we offer, in order to set an example for environmental protection and sustainability.
Our team includes kitchen assistants, buffet workers and cashiers, cooks, kitchen managers, side cooks as well as employees in the butcher's shop and the transport service. The employment opportunities are as varied as our catering services, ranging from the snack trolley to the cafés to the large-scale catering operations in our refectories. There is regular variety in the working day here thanks to numerous special promotions and theme weeks, during which the university catering provides, among other things, international, vegetarian and vegan influences on the plates and thus also satisfies the particularly discerning palate.
If you are passionate about working in the catering industry, appreciate a lively working environment and enjoy breaking new culinary ground in the pursuit of your craft, then you already bring important prerequisites with you to possibly soon contribute to the success of our university catering.
Our current open positions in the department university gastronomy
Image
Facility management
With a total of about 75 halls of residence, 18 cafeterias and canteens, 5 daycare centres and various administrative facilities at different locations in the Heidelberg-Heilbronn university region, it is no wonder that the approximately 70 employees in our Facility Management department never get bored.
In addition to managing the approximately 5,500 student dormitory places, the Facility Management department is also responsible for the complete building and construction maintenance, including the technical care and supply of all our properties. We plan, build, renovate and modernise as a building owner under our own responsibility and thus cover all four phases of the life cycle of a property. Our concept is derived from our mission as a social university service provider: sustainable and energy-efficient construction of highly modern and attractive living space with affordable rents.
The Facility Management team is not only made up of colleagues in the administrative areas, but also various specialists with a background in craftsmanship, technology and building science: caretakers, electricians, architects and civil engineers. What unites all these fields of activity is the direct proximity to our young student audience from all over the world.
If you can relate to modern construction and facility management, appreciate service-oriented contact with international clients and have the necessary intercultural competence as well as sensitivity and tact in dealing with people, then we look forward to hearing from you.
Our current open positions in the department facility management
Image
Apprenticeship & Studies
Starting a career is an important step, and the decision for an apprenticeship and the right training company needs to be well thought out. We offer you various opportunities to embark on this exciting adventure with us. No matter whether you find yourself in one of our apprenticeships or are interested in our dual study programme in cooperation with the Baden-Württemberg Cooperative State University Heilbronn: With us, you have a qualified training company at your side that will support and promote you individually from your very first day. Thanks to our medium-sized size, you can look forward to a practical, wide-ranging apprenticeship and at the same time benefit from a personal and friendly atmosphere - the ideal conditions for learning while having fun and successfully laying the foundation for your professional future.
---
Traineeships and Internships:
Kauffrau/Kaufmann für Büromanagement
Köchin/Koch
Praxisintegrierte Ausbildung für Erzieher/innen ("PIA")
Anerkennungspraktikum für angehende Erzieher/innen
Anerkennungspraktikum für angehende Kinderpfleger/innen
Integrated Degree Programmes
Bachelor of Arts (B.A.) BWL Food Management
Our current open positions in the department apprenticeship & studies
Not the right job for you?
Send us a speculative application!
If you are enthusiastic about working with and for people and find yourself in one of our professional fields, both professionally and personally, then send us your speculative application. We will be happy to check whether we see a job opportunity that matches your profile.
Post Address:
Studierendenwerk Heidelberg AöR
Marstallhof 1
69117 Heidelberg
Contact
Tel: 06221 54-5400